Pour mon ami AGEod:
I post today as a concerned dedicated player. Both my friend and I who have been playing many PBeM games over the course of the last year have looked forward to an update of the game we enjoy (to a certain extent) so much. While it's the best there is in the genre, there is always room for improvement, and I would like to comment on what I have seen--and what I haven't seen--concerning AACW2. I am concerned that this newest release is going to just be a majority graphical update, and not emphasize gameplay.
1. The Graphical Update
I see the new map... I see Massi's posts concerning his development of boats, images, et cetera. I am happy to see this game move forward into the true 21st Century. What I have not seen is how you all intend to relieve the other issues the old graphics had: stacks covering important information concerning towns or roads, entrenching levels, sieges, blockades, whatever.
2. Unit Construction
We've gone over this before--and this is one of those few certain "features" of which I am concerned. We've talked briefly about a brigade/division builder, which was shot down quickly by Pocus. However, I seem to also glean that the system is going to be one of the scrolling versions from another AGEod game. One that has several issues all of it's own: a system that resets every time one makes a selection, cancelling orders (before submitting them) not being reflected in the balance, and other issues. I would always want to come down on the side of that old adage: Keep It Simple, Stupid; but this seems like a regression rather than progress. Perhaps, instead of new code, you simply wanted to recycle code from other, newer, titles. This I can understand. But if the result is an even more infuriating system than the one I have to work around now, then why should I even be bothered to spend money on it? I'll go play VicII:AHD instead... which is not what I want to do!
3. Gameplay
One of the biggest issues that my friend and I have when playing is that there is no way to "schedule" orders. By this, I mean that I cannot tell a pair of corps, marching from different provinces into other provinces to arrive at certain times. For instance, I have two corps: III Corps and V Corps in Stafford and Faquier, respectively. I want them to march to Arlington, but while one will arrive in 5 days, it would take the other 7 days. I can't tell V Corps to wait a day or two to start movement so that they both arrive on the field at roughly the same time?
Second is sieges. I have had two full armies of the Union bottled up in New Orleans and Fort Pike for much of the war. Apparently, they have not had any degradation of manpower or strength at all in the last twenty turns. Furthermore,
I'm
very nearly running out of supplies constantly, and having to rotate out five or so supply wagons every turn in order to stay in supply. Here's a screenshot: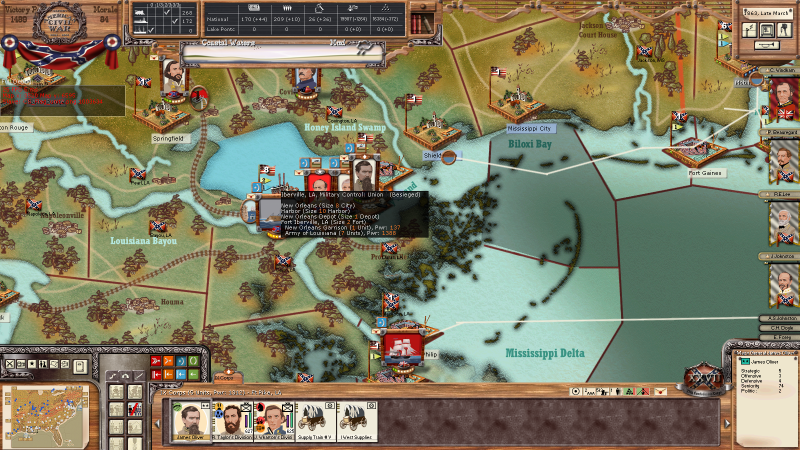 IX Corps is in Ft Pike, Union Forces there: 1495 power under Buell. X Corps (1496 power) and SouthCom (28 power), are outside New Orleans. RIVERON 2 (818 power) is outside of New Orleans, and you can see what's inside New Orleans. This has pretty much been static the entire time. How should this be resolved? Because these massive armies should be decimated from disease. I can't see how the Union is still being supplied, because neither Mississippi City nor Shieldsboro is showing as Union controlled for the purpose of transferring supply.
Third--led into by the above--is a needed improvement to show how and where supply travels, and why.
4. Ease of Modding
One of my favorite things that my friend and I do is to mod ourselves into the game at some point. We also sometimes try and modify the game to suit our own situations and peculiarities. This game's code is one of the hardest to do so; it's hard to adjust a game which we think could just be tweaked a few times vice having to impose house rules which may or may not work within the constraints of our vision of how the game should proceed.
Overall, I am concerned that we haven't seen much in the way of commentary from the Devs. Paradox is a model for me: very good about talking about the underlying mechanics that make the game run, and how their thought processes influenced why the game was designed to be just so. So far, I feel that the players have been expecting so much, because there has been nothing to say otherwise... and been told to wait until August for game release.
Your ever respectful friend,
Wraith