The Armored Support trait that you get from a tank, which applies to the entire unit, is certainly valuable. But you can get that same trait much cheaper with armored cars. And armored cars have other benefits as well. Are tanks worth the extra cost over armored cars?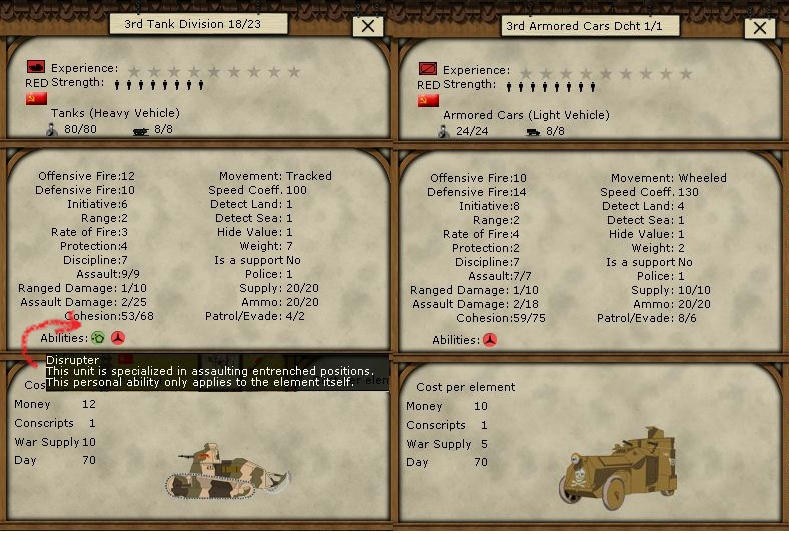 The average of offen/def fire scores actually favors the armored car by one point. Armored cars have better initiative, rate of fire, speed, much better scouting (detect), and better patrol/evade. They are also less money to build and half the war supply. And as the Reds, with armored cars you never need to pay the 15 EP, 15 War Supply, and 50 rubles (and wait five months) to build a factory to make the cars, as with the tanks.
Tanks have better protection and assault values--not in doing more damage in assaults, but in causing more cohesion loss to the target. But not by very much over the armored car.
Tanks do have the Disruptor trait, though. I had previously misunderstood the Disruptor trait to cover all elements in the tank's unit. That would make the tank much more valuable than the armored car, but I now see that it applies only to the tank element itself. It's nice that the tank element itself would ignore entrenched levels when attacking, but that seems like a drop in the bucket when you consider the masses of elements that are involved in a RUS battle. So I'm not seeing the value in the extra cost for a tank. The armored cars get the valuable Armored Support trait the same as tanks, and that seems like enough.
Am I missing something?
Personally, I would like to see tanks as giving this Distruptor trait to other elements in the same unit. Perhaps not all of them--maybe the presence of a tank in the unit gives each other element a percentage chance of ignoring entrenchment, as some of the troops are able to follow the tank through the breach in the enemy's lines. Perhaps even make the percentages stack, so someone might include more than one tank in a unit to try to break heavily entrenched defenses.